You Belong at Your Library  
Happy Pride! We are reaffirming our commitment to providing a safe space and equitable service, so we can inspire within you the undeniable sense that you belong at your library. We strive to support you, your family, and your chosen family in every stage of your journey, all year round – not just in June. 
To be a voice in the community advocating for equality, we need to lead by example. The many ways we interact with our community provide us with opportunities to listen and learn, and be role models for others. We are proud to do our part to support the future of 2SLGBTQIA+ youth, to make sure they have role models and can grow up to be role models.  
Public libraries are an important place to find information and support, to hear and tell stories, and to discover community. With a wide range of 2SLGBTQIA+ books and other materials, libraries can help you explore your identity and gain a better understanding of the world around you. Here, you can learn more about 2SLGBTQIA+ history, find yourself reflected in stories, and access information about healthcare and other social services. 
By coming together in support of the 2SLGBTQIA+ community, we show that the values of inclusiveness and acceptance are much more powerful than hate and intolerance.
Krista Robinson, CEO
Get access to more than 7,000 of the world's top newspapers and magazines as soon as they're available! Find LGBTQ titles from 17 countries in 8 languages including Cult MTL, Pride Life, Beyond Gender, Gay Times, Fuges, QMagazine, and more.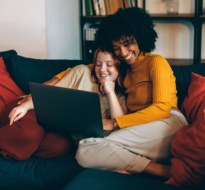 Classic cinema, top documentaries, and indie films are just a click away with Kanopy including the movies Shortbus, Potato Dreams of America, The Watermelon Woman, The Incredibly True Adventures of Two Girls in Love, and more. Find popular LGBTQ titles or discover something new!
Resources & Supports
Whether you're out or figuring things out, there are supports for you!
If you are in crisis:
Call 911
Go to the nearest hospital
Call Crisis Services Canada (24/7) at 1-833-456-4566
Call Kids Help Phone (for youth) at 1-800-668-6868
Call GOOD2TALK (for college/university students) at 1-866-925-5454
Perth County Resources
Ontario/National Resources